DOWNLOAD & TRY FREE DEMO !
All DOTEC-AUDIO plug-ins have free demonstrations in paid version as well.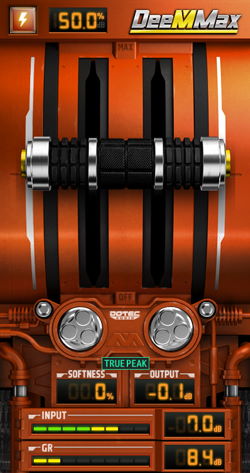 DeeMMax Maximizer / VST & AU & AAX plug-in
DeeMMax is a special loudness maximizer for mastering.
By proprietary harmonics processing technology, It is possible to get loud sound clearly by avoiding cloudiness of sound with keeping the mix balance.
Checked DAWs

Our Plug-ins are tested with following hosts.
Please try demo to check works normally on your hosts.

ProTools 11.x & 12.x & 2018
Cubase 8.x 9.x 10.x
Ableton Live 9.x
Sonar X2 - PLATINUM
Studio One 3.x
FL Studio 12.x
Logic Pro X 10.x
GarageBand 10.x
Reason 9.5
BITWIG STUDIO 2.x
ACID Pro 8
Digital Performer 10
DEMO Download
Windows VST/AAX (ZIP 32/64bit)
Mac OS X VST/AU/AAX(TGZ 32/64bit OS 10.7 or later)
Latest version is 1.5.2. These ZIP files include manuals(En/Jp).
Demo version of DeeMMax has a limitation for operating time (disabled after a certain number of the samples are processed).
Please purchase a serial key and register from here in order to use with no restrictions.
* The registration requires an internet connection.
Input the Coupon Code or other product's Serial key !
You can buy DeeMMax at a discounted price !
(Coupon $10 USD discount, Serial key $15 USD discount )
Features
You can easily add loudness. Only one slider will control everything.
You can get the big loudness with a clean & transparent at mastering.
You can priority to dynamic ranges due to using Softness dial.
Monitor swich constants volume level of input&output for monitoring.

Release notes
Apl/5/2019 Version 1.5.2 : New!
Supported to Bitwig Studio V2.5.

Jan/18/2019 Version 1.5.1 : New!
Add changing display to % or dB function.

Dec/23/2018 Version 1.5.0 :
New peak control improves sound quality.

Dec/6/2018 Version 1.0.2 :
Fixed problem in bypassing on Cubase.

Nov/17/2018 Version 1.0.1 :
Fixes for some host application's PDC.

Oct/20/2018 Version 1.0.0 :
First release.