DOWNLOAD & TRY FREE DEMO !
All DOTEC-AUDIO plug-ins have free demonstrations in paid version as well.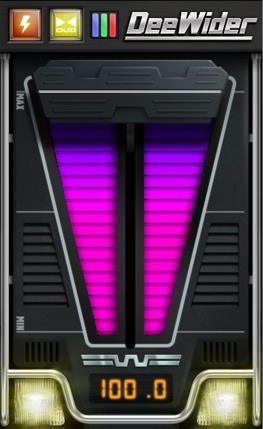 DeeWider Stereo Imager / VST & AU & AAX plug-in
DeeWider is Plugins that wider the sound transparently by LCR separating.
Checked DAWs

Our Plug-ins are tested with following hosts.
Please try demo to check works normally on your hosts.

ProTools 11.x & 12.x & 2018
Cubase 8.x 9.x 10.x
Ableton Live 9.x
Sonar X2 - PLATINUM
Studio One 3.x
FL Studio 12.x
Logic Pro X 10.x
GarageBand 10.x
Reason 9.5
BITWIG STUDIO 2.x
ACID Pro 8
Digital Performer 10
DEMO Download
Windows VST/AAX (ZIP 32/64bit)
Mac OS X VST/AU/AAX(TGZ 32/64bit OS 10.7 or later)
Latest version is 2.0.0. These ZIP files include manuals(En/Jp).
Demo version of DeeWider has a limitation for operating time (disabled after a certain number of the samples are processed).
Please purchase a serial key and register from here in order to use with no restrictions.
* The registration requires an internet connection.
Input the Coupon Code or other product's Serial key !
You can buy DeeWider at a discounted price !
(Coupon $10 USD discount, Serial key $15 USD discount )
Features
*Only one slider will controls stereo images.
*Can be changes the bass sound colors.
*New! Can be gains the True side sound that extracted by unique LCR separation technology.
*New! Can be converts a mono source into a pseudo-stereo by DUO button.

Release notes
May/25/2018 Version 2.0.0 : New!
Improved CPU usages and sound quality by unique LCR separation technology.
Add a DUO button that converts a mono source into a pseudo-stereo.


Apl/12/2018 Version 1.5.2 :
Load the value of color button correctly when the project was loaded.

Apl/8/2018 Version 1.5.1 :
Fixed bug miss reporting PDC in some DAWs.

Mar/8/2018 Version 1.5.0 :
- Fixed bypassing PDC bug.
- Yellow / red gradation will be specialized the acoustic instruments.

Mar/2/2018 Version 1.0.0 :
First release.