DOWNLOAD & TRY FREE DEMO !
All DOTEC-AUDIO plug-ins have free demonstrations in paid version as well.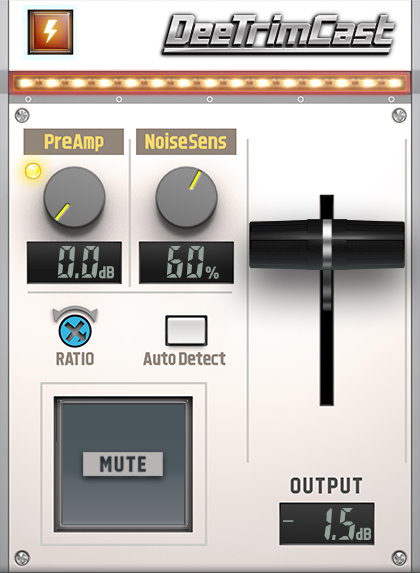 DeeTrimCast Auto Leveler / VST & AU & AAX plug-in
DeeTrimCast is a simple plugin which controls the volume from -12dB to +3dB.
It can keep the output level constant from any input level.
It is optimized for broadcast, including a preamp and noisesens (noise cut) , so it is recommended for use with OBS Studio etc !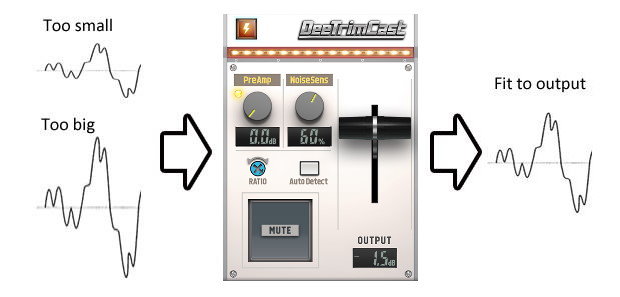 Demo Video
Checked DAWs

Our Plug-ins are tested with following hosts.
OBS Studio 26 New!
ProTools 11.x & 12.x & 2018
Cubase 8.x 9.x 10.x
Ableton Live 9.x
SONAR Xx & PLATINUM / CakeWalk
Studio One 3.x & 4.x
FL Studio 12.x
Logic Pro X 10.x
GarageBand 10.x
Reason 9.5 & 10.x
BITWIG STUDIO 2.x
ACID Pro 10
Digital Performer 10
Serato Studio 1.4
Ability 3.0

Release notes
Feb/15/2021 Version 1.0.1 : New!
Fixed a bug that caused noise when using long sounds.

Feb/12/2021 Version 1.0.0 : New!
First release.