DOWNLOAD & TRY FREE DEMO !
All DOTEC-AUDIO plug-ins have free demonstrations in paid version as well.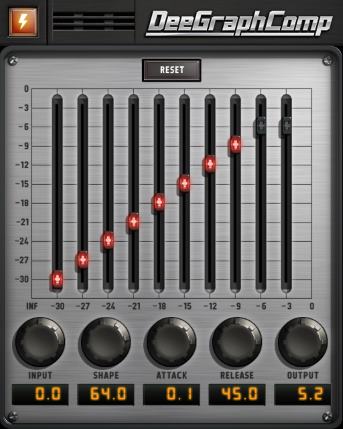 DeeGraphComp Graphic Compressor / VST & AU & AAX plug-in
DeeGraphComp operates like a graphic EQ to adjust the dynamics of each level.
Demo Video
Features
Can be change dynamics on each levels like a GraphicEQ.
Can be set compress and expand on each levels.
Can be make original compression curves by setting sliders.
You can make spacial compressor and creative effects.

Checked hosts

Our Plug-ins are tested with following hosts.
Please try demo to check works normally on your hosts.
OBS Studio 26 New!
Streamlabs OBS V1.0 (Windows only) New!
ProTools 11.x & 12.x & 2018
Cubase 8.x 9.x 10.x
Ableton Live 9.x
SONAR Xx & PLATINUM / CakeWalk
Studio One 3.x & 4.x
FL Studio 12.x
Logic Pro X 10.x
GarageBand 10.x
Reason 9.5 & 10.x
BITWIG STUDIO 2.x
ACID Pro 10
Digital Performer 10
Serato Studio 1.4
Ability 3.0
Release notes
Jan/5/2021 Version 1.0.3 : New!
- Apple Silicon support for VST, VST3, and AU for Mac (AAX is not supported).
- Fixed automation problem when using VST3 in Cubase.

Jul/3/2020 Version 1.0.2 :
Improved graphics processing to up on Mac Retina models.

Jun/23/2020 Version 1.0.1 :
Improved graphics processing to up to 300% on Mac.

Apr/20/2018 Version 1.0.0 :
First release.