DOWNLOAD & TRY FREE DEMO !
All DOTEC-AUDIO plug-ins have free demonstrations in paid version as well.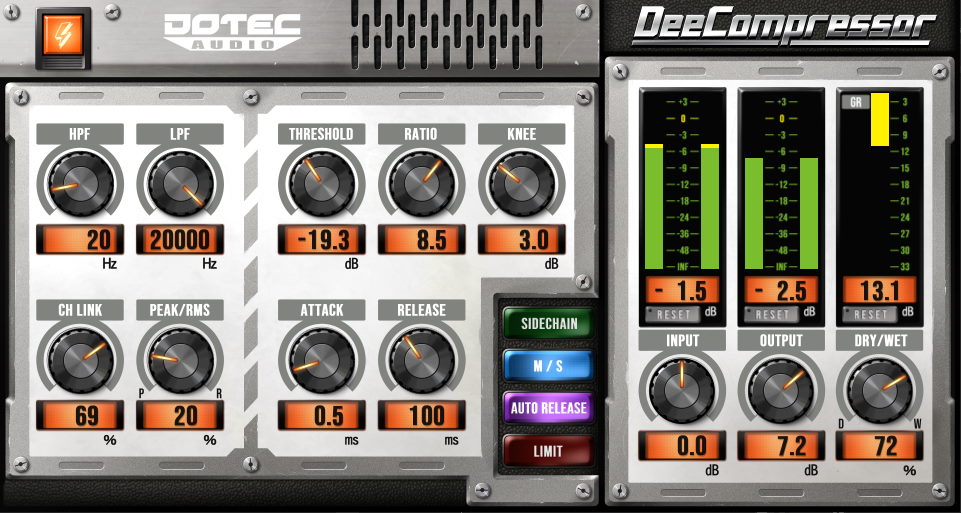 DeeCompressor Compressor / VST & AU & AAX plug-in
The highly popular flagship compressor DeeComp Reborn as DeeCompressor.
The newly developed algorithm allows you to enjoy even higher quality, powerful, and comfortable compression.

The operation has zero latency, and both attack and release can be set ultra-short.
The ratio supports up to 0.5:1, so you can also emphasize the attack.
The M/S mode can be used to create a wide sound field, and the link between channels can be adjusted.
Auto release automatically adjusts the release to the best setting, and the limiter function is also provided for easy use.
A filter can be used to extract the bandwidth used for level detection, so clicks and ess can be suppressed, or targeted compression can be applied.
Of course, side-chaining and 64-bit double precision are supported.
Demo Video
New!
Features
FAT sound that you expect from a compressor.
Both attack and release can be set from 0 ms.
Supports ratios up to 0.5:1
HPF and LPF filters
M/S mode and channel link adjustment
Wide range of KNEE settings
Auto release
Side-chaining
Built-in limiter
Zero latency
Checked hosts

Our Plug-ins are tested with following hosts.
Please try demo to check works normally on your hosts.
OBS Studio 26 New!
Streamlabs OBS V1.0 (Windows only) New!
ProTools 11.x & 12.x & 2018
Cubase 8.x 9.x 10.x
Ableton Live 9.x 10.x 11.x
SONAR Xx & PLATINUM / CakeWalk
Studio One 3.x & 4.x
FL Studio 12.x
Logic Pro X 10.x
GarageBand 10.x
Reason 9.5 & 10.x
BITWIG STUDIO 2.x
ACID Pro 10
Digital Performer 10
Serato Studio 1.4
Ability 3.0
Release notes
Jun/18/2022 Version 1.0.1 : New!
- Apple Silicon support for AAX for Mac (Other formats are already supported.).

Apl/15/2022 Version 1.0.0 :
First release.